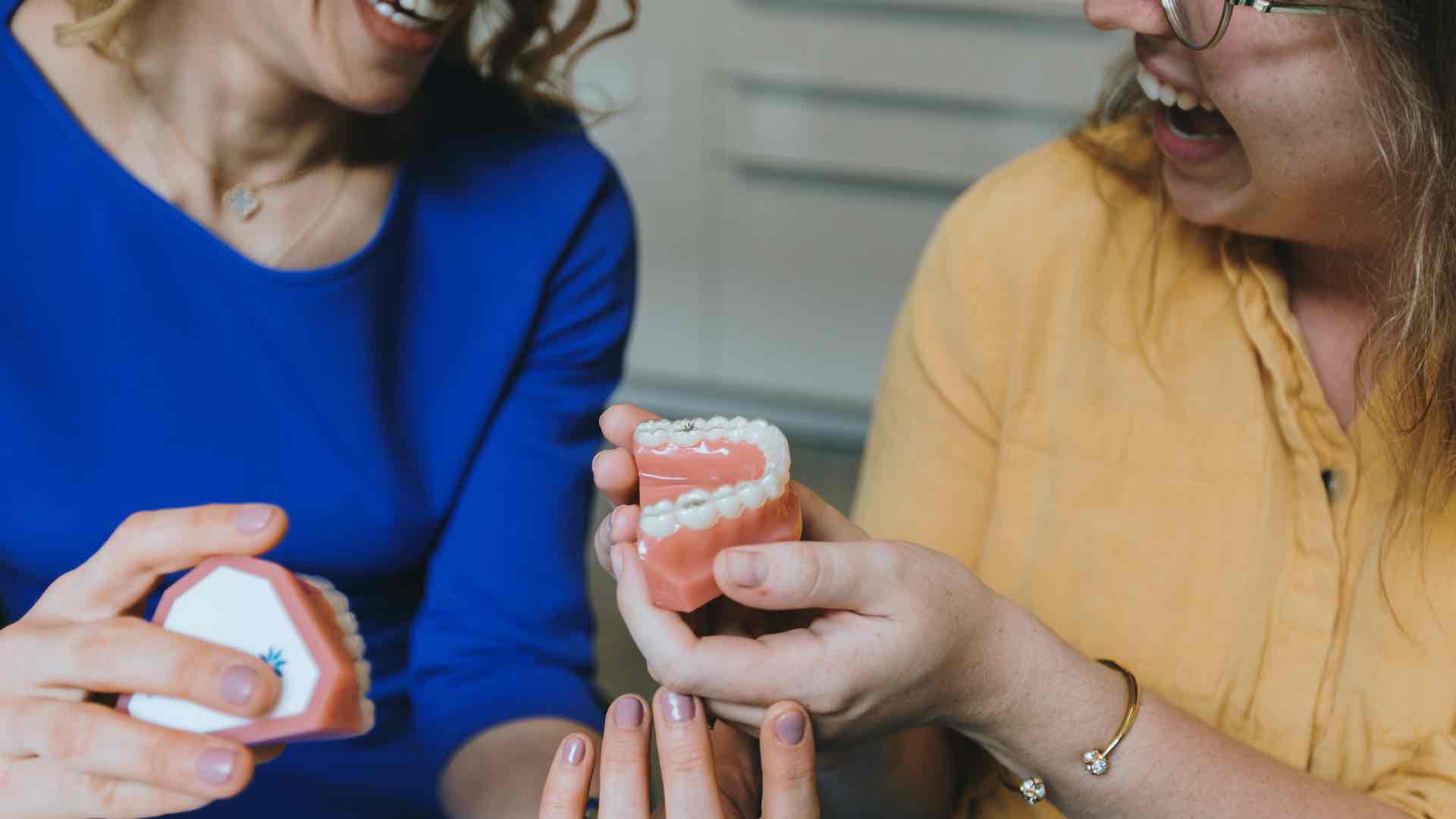 Best Practices and Pro Tips for Clear Aligners
1. REMOVE AND RINSE
Be sure to wash your hands when you're about to remove your aligners. Give them a rinse and even wash them with a liquid hand soap if you want to be extra diligent(we're all taking extra precautions with hygiene these days so we highly encourage this). Cleaning and rinsing aligners will keep your mouth healthy and prevent dried saliva from building up on the plastic. Saliva can accumulate on the inside and outside of your aligners, making them look yellow and discolored and cause bacteria to form. Hard pass.
‍
2. BRUSH AND FLOSS BEFORE YOU WEAR
After you eat, be sure to brush and floss your teeth before putting your Invisalign aligners back in. If food or sugar are allowed to hang around your teeth, they will get trapped between your aligners and your teeth, which can lead to dental issues. Remember, most dental problems are completely preventable if caught and treated early and keeping a clean mouth is where it all starts. When you start Invisalign Treatment at Seaport Smiles you will get a start-up kit that makes keeping your pearly whites sparkling clean easy-peasy!
3. ALWAYS KEEP A BOTTLE OF EVERSMILE WHITEFOAM AROUND
You might not have come across WhiteFoam yet. If so, get ready for a game changer. What is it? EverSmile WhiteFoam is a cleaning foam made especially for aligners and retainers, designed to brighten and freshen your Invisalign trays so they stay as clear as the first day you popped them in! It's fast, easy and a patient favorite!
Here's how it works:
Step 1: Apply one half to one pump full of EverSmile WhiteFoam to trays.
‍
Step 2: Use nozzle tip to spread foam evenly to cover all areas.
‍
Step 3: Place trays in mouth and spit out excess foam.
4. SOAK NIGHTLY IN RETAINER BRITE, DENTURECLEANER OR INVISALIGN CLEANING CRYSTALS
When you're winding down for the night, soak them in a solution specific for cleaning dental appliances. This takes about 15 minutes and you ought to do this every night. Treat your aligners like an intimate piece of clothing you spend the whole day wearing. You want to clean it well before wearing it for another 22 hours! You have a few options forbut Retainer Brite is the easy go to. Efferdent denture cleaner, cleaning crystals from Invisalign, or any generic substitute will get the job done too. Check the product details to make sure you're not allergic to any of the ingredients. After letting them soak, make sure to scrub with a spare toothbrush to remove plaque and tartar build up that have loosened up during the soak.
‍
Remember to brush and floss your teeth after eating and before putting in your aligners, and rinse the aligners right before wearing them. If you're caught out without a travel brush/floss kit, don't despair. Take a big drink of plain water and swoosh it around, rinsing off any sugar or leftover food and neutralizing the acid in your mouth to a nice, neural pH (7!).
#done